I have a simple service policy.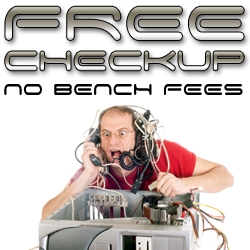 Most of the time I do not charge to "look at it".
We do not offer a "free diagnostic" or a "free assessment" service so you can repair it yourself.
When I have to take apart your laptop or remove the side panel of your computer, there will be a minimum charge of $25. If you allow us to repair it, the $25 is waived.
If, however, I determine that your equipment/issue can be repaired/resolved, but you elect to leave it unrepaired/unresolved, the labor for time spent will be charged at $30/hour.
All labor includes a warranty, excluding: misuse, virus contamination, spyware contamination, hardware failure, known issues, unsolvable issues, lightning, software failure and acts of nature.